Built-In Led Light
The inner Led light will turn on when using master key plus code to open the safe, the light provides increased visibility so you can easily access your valuables in the dark.
Micro-USB Plug
When the low battery, the red led light will flash, with the USB-Micro USB label, you can easily use a power bank to power up the system via the Mario-USB plug.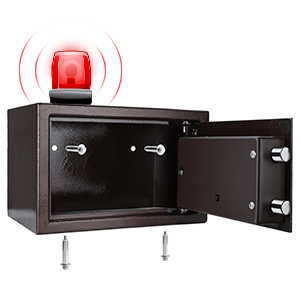 Strong Security
With 2 Pre-drilled holes both in the back and bottom (comes with 2 mounting bolts), the safe can be fixed to the wall or floor. Violent vibration or three- incorrect entries will activate the warning beep. Provide dual-protection to your valuables.